PINKtober

North Park Lexus at Dominion and North Park Lexus of San Antonio is teaming up again with ThriveWell Cancer Foundation for Breast Cancer Awareness month October 2019.  Both North Park Lexus dealerships will be making a donation for every new Lexus vehicle sold and every service ticket written to ThriveWell Cancer Foundation here in San Antonio, Texas.  Join us for PINKtober at Lexus Dominion and together we can help to drive out breast cancer.
In addition to our Lexus dealership donations, you will see the entire Lexus Dominion sales and service team supporting the cause and promoting Breast Cancer Awareness month by wearing pink ties, accessories, shirts, socks and more.  Show your support and help spread a message of hope with a complimentary PINK Ribbon manicure from our Lexus Dominion Day Spa and exclusive access to our Drink PINK bar where we will be serving refreshing drinks and a wide array of treats every weekend.  The team at Lexus Dominion invites and encourages all of our Lexus owners, friends and family to connect and share your own message of hope by following PINKtober@LexusDominion on social media.  Find us on Facebook @NorthParkLexusatDominion or on Instagram @LexusDominion and don't forget to tag #PINKtober and #LexusDominion for a chance to be featured.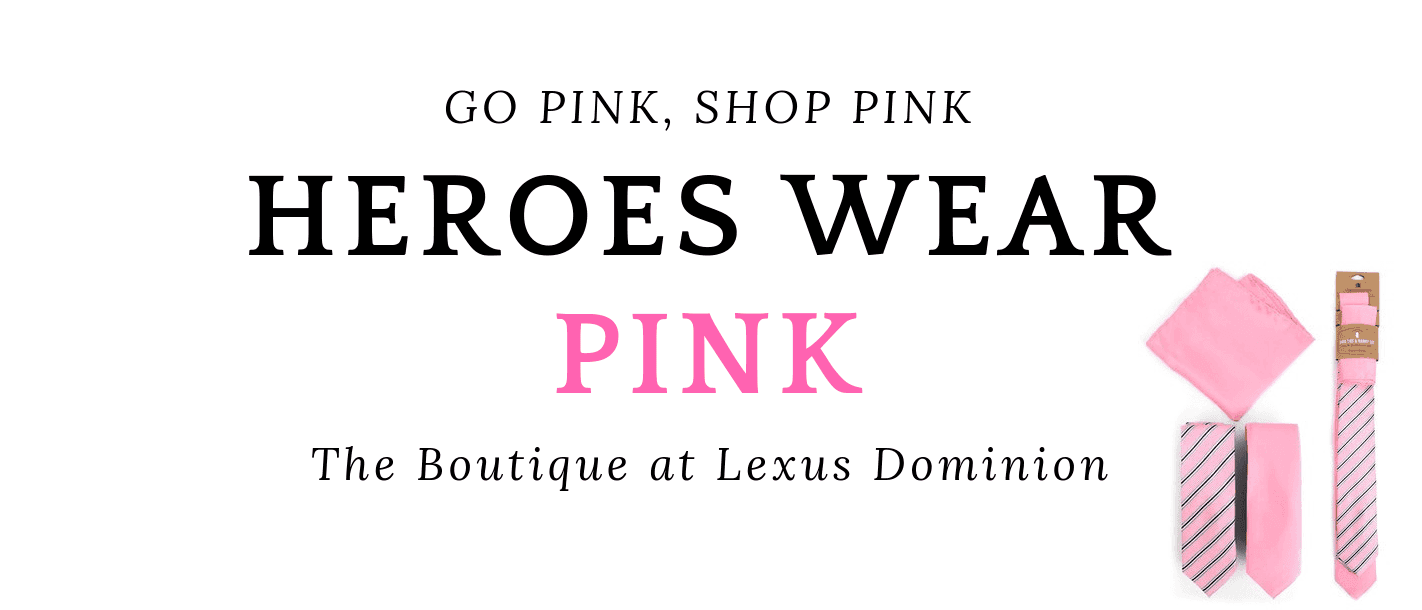 PINKtober Events at Lexus Dominion
Heroes wear pink and our North Park Boutiques have teamed up with Ties.com, Breast Cancer Angels and Breast Cancer Solutions again this year to join in on the fight for a cure.  100% of the net proceeds this year from our Wild Attire Tie Scarf and Sock selections go to these charities to help with breast cancer research, awareness, and support.  You may find many "GO PINK" items in our North Park Boutiques and available here at The Boutique at Lexus Dominion.  We look forward to helping you find the perfect selection for your family and friends.  Whether you're shopping for a new car, having your Lexus serviced or just want to check out our team's PINK ties and accessories, we invite our Lexus community to join us every Saturday for PINKtober at Lexus Dominion.
PINK Pumpkins, PINK Treats & PINK-O-WEEN at Lexus Dominion
Join us for our signature PINK drinks and PINK treats available throughout our Lexus dealership every Saturday during PINKtober at North Park Lexus Dominion. You can also enjoy a PINK Starbucks Frappuccino from our Lexus Cafe or our popular PINK Italian Soda.
Support Breast Cancer Awareness with your very own PINK Pumpkin for your porch.  Pumpkins, paint, and supplies will be available every weekend for our Lexus friends and family members to decorate and paint their own PINK Pumpkin.  Our Lexus guests and family members have fun supporting the cause with PINK pumpkin painting all while shopping for your next car at Lexus Dominion.  We can't wait to see your pumpkin!  Share and post a picture of your PINK pumpkin online by tagging #Pinktober and #LexusDominion or showcase your work of art alongside the PINK pumpkins painted by the Lexus Dominion team at our San Antonio dealership.  Want to take home a pumpkin?  We can help or even create a custom-painted PINK pumpkin for you!  Join us for PINKtober at Lexus Dominion and together we can help to drive out breast cancer.